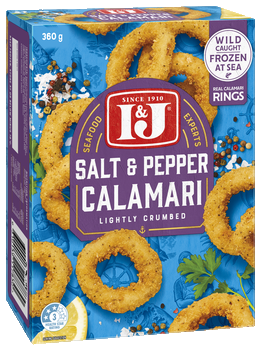 Salt & Pepper Calamari Rings 360g
Snacks
Calamari and Squid
I&J Salt & Pepper Calamari Rings are made with tender squid coated in a golden, crispy crumb. These can be oven bake or pan fried for a quick and delicious snack or entertaining solution. No added preservatives, artifical colours or flavours.
Ingredients
Nutritional Information
Squid (50%), wheat flour, soybean oil, water, thickeners (1404, 1414, xanthan gum), salt, pepper, sugar, sunflower oil, flavour enhancer (635), acidity regulators (450, sodium bicarbonate, citric acid), yeast, flavour.
Contains molluscs, soy and wheat.
Made in China
3 Health Star Rating
No added artificial colours flavours or preservatives
Whilst all care has been taken to ensure the information is
correct, please refer to the product label for further information.
Cooking Hints and Tips
My hunger for Battered fillets can't be satisfied.